While using Google on our iPhone to search for law school mission statements, we  searched for results under "uconn law school."  To our surprise, Uconn was ranked second behind Quinnipiac School of Law because Quinnipiac's was a sponsored link.  Here is a screenshot from our iPhone showing the result of our search: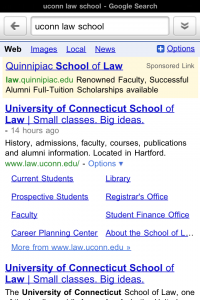 Based on this tiny bit of evidence, the law school business appears to be a dog eat dog affair.
We tried the same search using Google on our laptop and on our iPad and were again surprised, this time because Uconn was at the top of its own ranking.  Quinnipiac was still in the picture but this time off to right with three other sponsored links, one of which produced yet another surprise, a link to Concord Law School which advertises that one can get a law degree 100% online.  Here is its ad as it appeared at approximately 10:42am on August 4th, 2010:

Who knew that using the Google search engine would produce different results depending on the device one uses?  And who knew that there is virtual law school offering a virtual legal education.  And to think that we made these discoveries trying to find law school mission statements. Where is legal education headed?